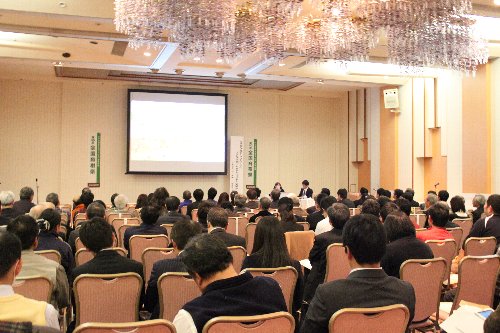 26th January 2015
The third "Kyoto Conference on Forest, Forestry and Wood Industry" was held in January 26th, 2015. At the conference, stakeholders such as companies and groups committed to forest, forestry, residential construction and conservation of forest got together.
At the general meeting, the Governor's Prize which recognized Kyoto Model Forest approach was awarded, followed by the lecture titled "Designing local communities-beginning with the sustainable management of forest landscapes for a hundred years " from Mr. Hideki Aoki, the chief of Nishi-Awakura village, Okayama prefecture at the general meeting.
In the afternoon, "The Conference for promotion of Model Forest approach" took place.
Lectures and reports about commitment to conservation and growth of forest were given there as well as presentation of certificates of commendation and testimonials.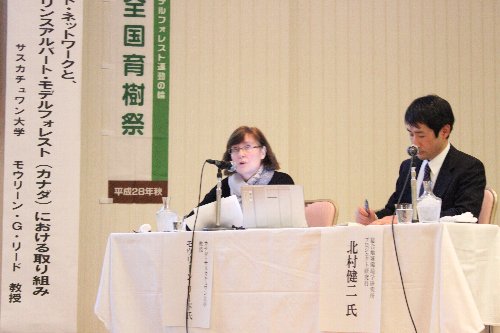 Professor Maureen G. Reed from University of Saskatchewan introduced a case study of Canada, the birthplace of Model Forest, titled "Model Forest Network and commitment at the Model Forest of Prince Albert" as the guest speech.
After five corporations and groups gave us their reports on their daily activities, challenges, prospects for the future etc., the panel discussion was held. Varieties of opinions were actively exchanged there such as "Each stakeholder should be responsible for his/her own role." "How should we manage the change of generation?" Professor Kazuhiro Tanaka, the vice-president of Kyoto Prefectural University played the role of its coordinator.