On May 29, 2017, the annual general meeting of the KMFA was held at the Kyoto Garden Palace, Kamigyo Ward, in Kyoto city.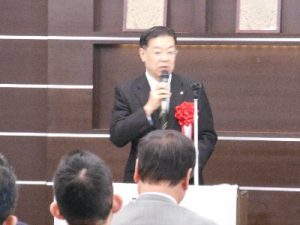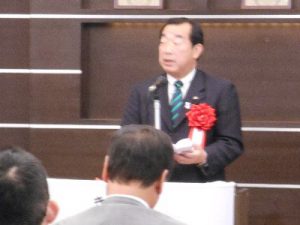 (Photo: Left: Mr. Keiji Yamada, Governor of Kyoto Prefecture;
Right: Mr. Masaharu Murata, Chairman of the Kyoto Prefectural Assembly).
The meeting was attended by 181 members. Mr. Yukio Shinobe, the Chairperson of the Kyoto Forest Instructor Association was nominated as the chairperson for the meeting and the agenda, 2017 financial report, and election of the board members were approved.
The 2016 Annual Report and 2017 fiscal year project plan and budget, which had been approved by the Board of Directors in March were reported.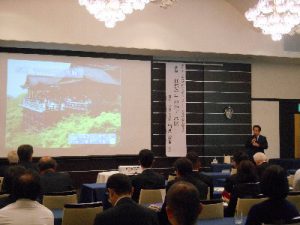 After the meeting, Dr. Shigeharu Kusumi, a Professor from Kansai University, presented a lecture titled "Underground Water Vein of the Thousand Years in Kyoto." He explained how groundwater has contributed to the establishment of Kyoto's culture, especially in the context of sake brewing, which is the pride of Kyoto. In the following Q&A session, questions were focused on the relationship between water conservation and forests, as the audience listened attentively.