On May 23, 2016, the annual general meeting of the Kyoto Model Forest Association was held at Kyoto Garden Palace, Kamigyo Ward, Kyoto city.
(Photo: Left: Mr. Akihiro Yamashita, Vice-Governor of Kyoto Prefecture;
Right: Mr. Yoshihiro Ueda, Chairman of the Kyoto Prefectural Assembly)
The meeting was attended by 166 members. Mr. Yukio Shinobe, the chairperson of the Kyoto Forest Instructor Association, was nominated as the chairperson of the meeting, and the agenda, 2015 financial report, and election of the board members were approved.
The 2015 Annual Report, medium-term management plan, and 2016 fiscal year project plan and budget balance, which had been approved by the Board of Directors in March, were reported.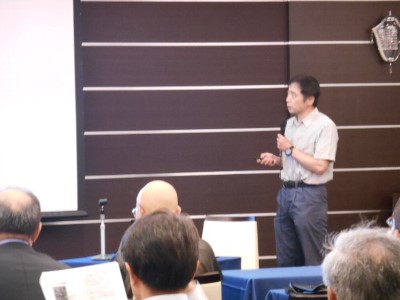 After the meeting, Dr. Atsushi Takayanagi, a lecturer at the Kyoto University Graduate School of Agricultural Science, presented a lecture titled "Forest Management and Wildlife." He pointed out that the number of large mammals such as deer and wild boar has increased rapidly over the recent years, which has a huge impact on the forest ecosystem in Kyoto. Based on his research, which spans several years, in the fields of agriculture, forestry damage control, and the protection and management of wild animals, as well as local history and latest research results, he contended that wildlife should be considered a boon of the forest and we should realize a society that incorporates wildlife.