March 11, 2016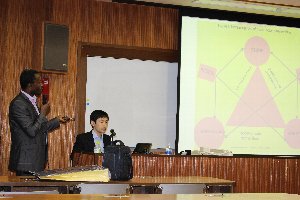 On March 11, 2016, the Kyoto Model Forest Association and Kyoto Prefectural Forest Science Department jointly held the reporting session of the International Research on Model Forests in Japan and Canada. In addition, the timely visit of a study tour of the Indonesian Ministry of Environment and Forestry to Kyoto enabled them to join meeting and briefly r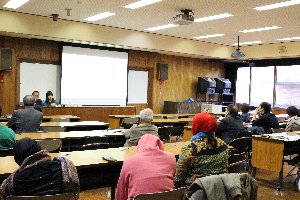 eport on the Model Forest in preparation for the establishment.
John Boachi-Danquah, a doctorate candidate at the School of Environment and Sustainability (SENS), University of Saskatchewan, reported his research on sustainable forest management and Model Forests in Kyoto and Canada. He introduced the audience to the fact that the stakeholders from various sectors share the concept of sustainable forest management and attempt to resolve conflicts through communication. In addition, he explained the concept of the Eastern Ontario Model Forest wherein small forest owners cooperatively attained the Forest Stewardship Council certification.
John emphasized that, irrespective of the different social, economic, and ecological backgrounds, each Model Forest strives to promote spontaneous conversation and connect vertically and horizontally through multiple sectors.