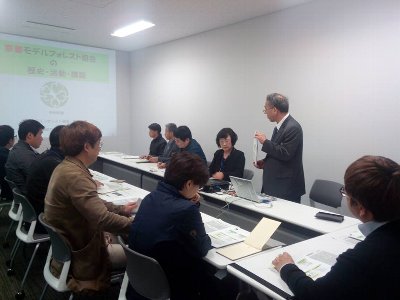 On 4th November 2015, a study tour from the municipal government of Ansan City, Korea, visited Kyoto to learn about the activities of the Kyoto Model Forest Association (KMFA).
After the address of welcome by Atsuhiro Sato, the Managing Director of KMFA, the Vice-Director Dr. Kazuhiro Tanaka (the Vice-President of Kyoto Prefectural University) gave a presentation about the situation of forests in Kyoto, and the history and current situation of Kyoto Model Forest activities.
About 90% of the forestland of Ansan City is owned privately, but is managed by the national government. As this is an industrial area and there is limited forestland, the forestry sector is not active and the involvement of local residents and companies in forest management is extremely limited.
The members of the tour eagerly asked questions about the International Model Forest Network, which shares its experience and knowledge while respecting each national or regional culture.