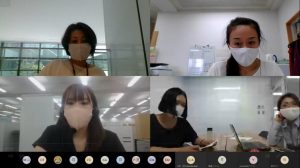 On September 23rd (Wednesday) 2020, the KMFA held an online meeting for exchanging information among the private companies engaging in forest management activities for the local forests in Kyoto. The participants discussed how to resume their activities while effectively preventing the spread of COVID-19.
Seventeen people from 11 organizations (private companies/universities) participated in the web conference. In the beginning, Mr. Seto, Managing Director of the National Land Afforestation Promotion Organization, explained the basic guidelines for resuming activities in forests amid the pandemic.
Next, during case presentations, Ms. Yamada of Sanyo Chemical Industries, Ltd. and Ms. Inoue of ESPEC Co., Ltd. introduced their adjustments, such as limiting the number of participants and changing programs or transportation means to safely manage their activities.
During the questions and answers session, the importance of additional consideration due to COVID-19 was discussed as follows. First, the needed infection prevention measures should be sufficiently explained in advance to the participants, such as employees and their families. Second, concerns among the community regarding the activity field should be considered and respected. Finally, mutual communication between the companies which support the forest management activities and the community around its field should be prioritized so that the activities can be mutually beneficial.
Although numerous restrictions will remain due to the pandemic, the KMFA will continue to conduct various support measures for long-term forest conservation activities by private companies.