On Saturday, September 7, 2019, a public lecture titled "Forest that Supported the History and Cultural Heritage of Kyoto" was held as an event related to the International Museum Conference Kyoto Convention.
This course is held under the theme of traditional culture, landscapes, and biodiversity of Kyoto, which is the foundation of the culture that supports the millennial history and is the cornerstone of culture. Thirty-five people, including international students, participated.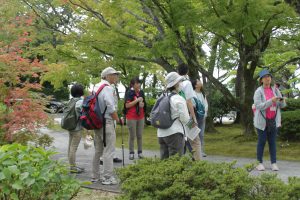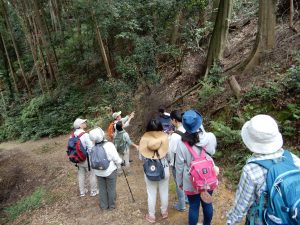 On the day of the tour, they left Kyoto City Hall by bus and first visited Seiren-in Seiryuden. While looking at the city and Higashiyama surrounding it from the observation deck, Mr. Sasaki, Forest Technical Instructor of the Kyoto Osaka Forest Management Office talked about the management of the regional national forests. Next, they took a walk through the Kodaiji National Forest, listening to the forest instructor's presentation about the forest and trees.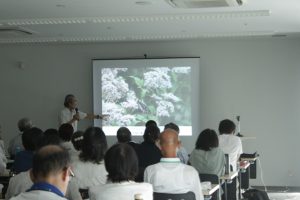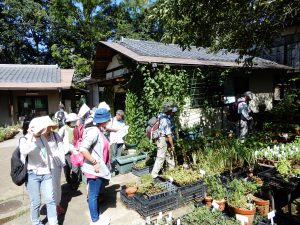 After arriving at the Wajun-Kaikan, Prof. Yukihiro Morimoto, the
Vice President of the Association gave a lecture titled "On
Kyoto's Traditional Culture and Biodiversity". After hearing about the plants inseparable from Kyoto's culture, such as Fujibakama, Hiougi, and Futaba mallow, as well as the efforts to protect them, the participants observed the plants preserved in the Kyoto City Greenery Association.
Lastly, they visited the Myokei Matsumoto Museum of Sculpture in Kamigyo Ward. Mr. Matsumoto guided the tour himself, explaining the greatly appreciated Buddhist statues created from a tree and retaining their shape for a long time.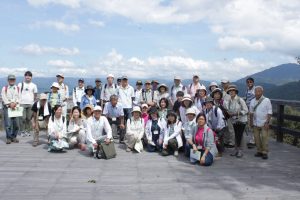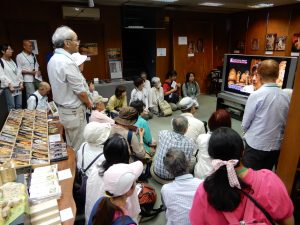 Some of the participants commented: "This event helped me to understand the efforts to maintain the beauty of the forests that support the scenery of Kyoto, and I am glad that I could come in contact with nature." "I got the impression that it was a deep and informative day."