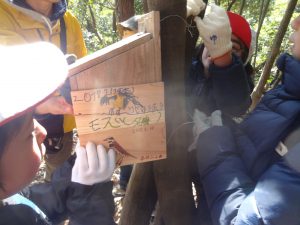 On Wednesday, February 14, 2018, 72 students from the third grade of Kyoto Municipal Kinkaku Elementary School participated in a program under the guidance of the Kyoto Forest Instructor Association. The program was conducted as a "Forest Delivery Lesson" funded by the Green Fund, which is nationally promoted and administrated by KMFA within the Kyoto prefectural area.
The lecture was focused on "birds and their ecology." Firstly, the instructors explained birds and birds' nest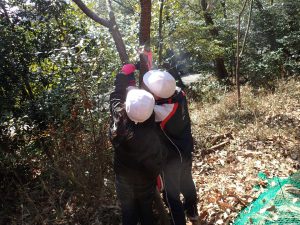 s to the students at the gymnasium, then the students made drawings of birds. After that, they made nameplates for birds and attached them to nest boxes. They carried them to Mt. Kinugasa and put the nests in trees.
Comments from participants:
"I want birds to enter the nest and like it"
"I was happy that I could draw birds well thanks to the explanation by the instructor"
"I am looking forward to going to the mountain to see if the birds like their nests."
This Delivery Lesson is implemented thanks to "Green Funds" donated by citizens, schools, and companies widely in Kyoto Prefecture.