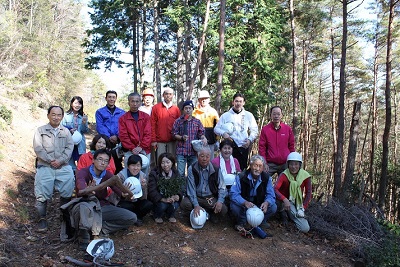 Kyoto Model Forest Association (KMFA) held the Forestry Experience Workshops for Traditional Culture on Sunday November 30th.
KMFA is designated to maintain the Kyoto Kiyotaki forest, owned by Misui & Co. Ltd., for the cultivation of pines and azalea.(The forest location: Umegahata, Ukyou-ku, Kyoto-shi)
These trees are supplied as firewood, for traditional festivals such as Daimonji Gozan no Okuribi (Daimonji Bonfire) and Kurama no Hi-Matsuri (Kurama Fire Festival).
Forest organizations, companies and students from Osaka and Nara joined the workshop, and the chairperson and the vice-chair person of Kurama Fire Festival Preservation Society lead them. Participants enjoyed working while sweating under the clear autumn sky and, as a result, the forest is now much lighter than it was.