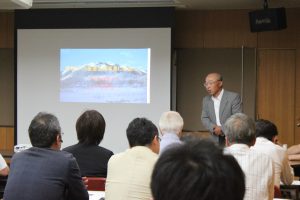 The Kyoto Model Forest Association (KMFA) held its Forest Management Fund 2016 fiscal year report meeting on June 13, in which the local groups within the Kyoto Prefecture reported their activities enabled by KMFA's fund. Several private companies in the non-forestry sector provided financial support through the fund as part of their corporate social responsibility initiatives.
KMFA administrates the fund in consultation with the advisory board comprising experts and researchers. This meeting was attended by board members, private companies, forestry cooperatives, non-profit organizations, local government officers, and KMFA members. The local groups shared presentations as part of the proceedings, after which positive interactions and exchanges between participants focused on forest management topics, including the viewpoints of private companies, local residents, and non-profit organizations.
Presenters highlighted their project progress and comments such as: "It is exciting for us to have new connections with private companies, or firewood stove users through this project as not seen before"; or "The project is a good opportunity to think of our local forests, and consider passing on the abundant forest resources to the next generation, say, to utilize the local and natural resources while being connected to them, or striving to attract the younger generation that left for urban pursuits".
In the subsequent Q&A session, wide-ranging topics such as deer-prevention, or broadening participation in activities in order to ensure successful and healthy forests in Kyoto for the future generation were discussed.