The KMFA held a forest maintenance activity workshop in 2019 for corporate personnel. This workshop series was held twice on November 29th and December 4th, targeting corporate personnel interested in forest and biodiversity conservation activities that can be practiced in the forest of Kyoto.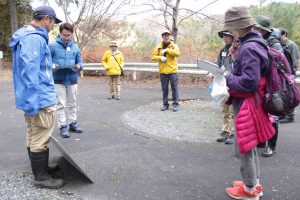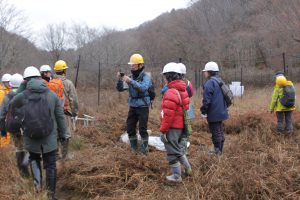 Friday, November 29th, 2019, STIHL's Forest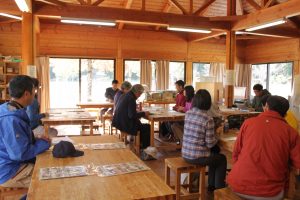 The participants experienced vegetation survey and maintenance of
Satoyama in Hiyoshi-cho, Nantan City, Kyoto.
First of all, they listened to a lecture on the meaning of forest conservation activities by the Chairman of the Kyoto Forest Instructor Association, Yukio Shinobe (also Director of KMFA).
Then, while conducting vegetation surveys under the guidance of Mr. Yoshino, Especmic Co., Ltd., they installed nameplates along the path in the forest.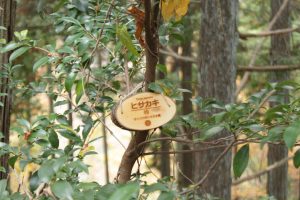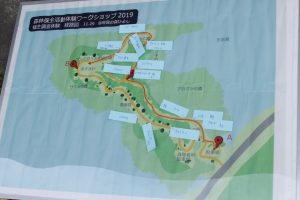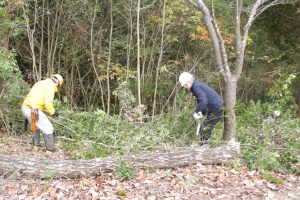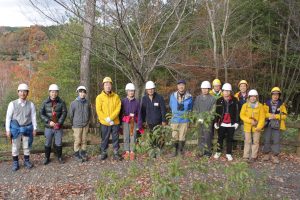 In the afternoon, as part of Satoyama maintenance, and under the guidance of forest instructors, they experienced thinning Satoyama forests along the walking path so that it could grow healthier.
A participant commented, "I have had no opportunities to get involved in forest field activities, but I am glad that I could experience the research and work on-site."
Wednesday, December 4, 2019, Kyoto University Ashiu Research Forest
At the Ashiu Research Forest in Kyoto University Field Science Education and Research Center in Miyama-cho, Nantan City, in the beginning, Dr. Masae Ishihara gave a lecture on the transition of the ecosystem in the forest, which was revealed by many years of research.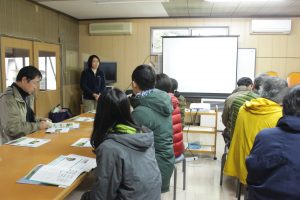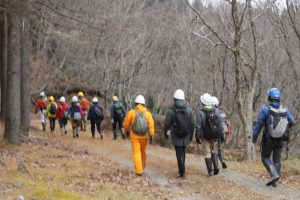 Next, the participants walked through the forest, while listening about the research. In the forest, they engaged in snowfall preparations by lowering the beast damage prevention fence installed to observe the recovery status of vegetation.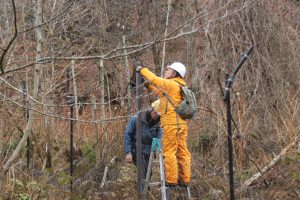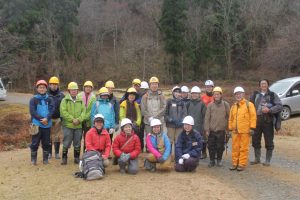 Participants commented: "I learned a lot about the richness of biodiversity and the damage caused by deer in the research forest, and it was a great learning experience." "I was impressed by the fact that continuous research for nearly 100 years has revealed that there are many extinct plants in the region and that there are also many in critical situations." "We reaffirmed the importance of efforts to protect biodiversity."