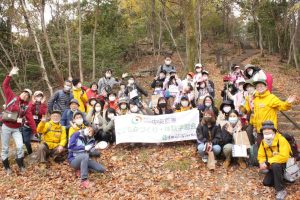 On Saturday, November 28, 2020, a forest learning session took place for children "Let's walk through and play in the forest around the Takaragaike pond! " A total of 31 people from 14 groups of children and their parents participated.
The participants walked through the forest cheerfully while listening to the guidance of the staff and forest instructors. Along the way, the staff stopped and performed a picture-story show about trees and creatures in the forest. The children enjoyed the story and the following quizzes about what they learned.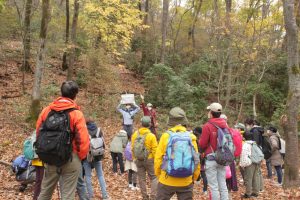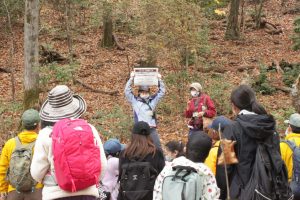 On the way to the ridge, the children collected acorns and leaves of various shapes and sizes while listening to the lecture that the acorns in the autumn forest were precious food for various wildlife.
Then, while observing the traces of animals along the path, they luckily happened to encounter a deer on the way in person. They also observed that the fence installed along the ridge to protect the Rhododendron Chinensis from deer damage and that the fence helped the protected species grow steadily. At the fire bed of the "Hou", one of the famous bonfire festivals in Autumn in Kyoto, Associate Professor Atushi Takayanagi, from the Faculty of Agriculture of Kyoto University, gave a lecture to the people present about the effort that was put in to conserve the surrounding forest and consequently the fire bed. "When you saw the bonfire, he explained, please remember our effort to protect this forest." The participants listened to his lecture while nodding to his passionate message.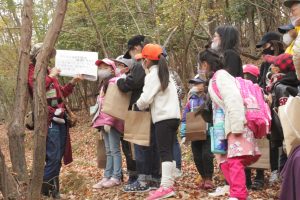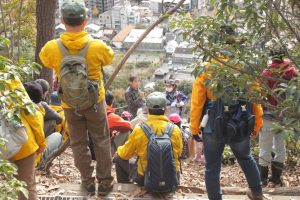 In the end, they walked along the pond while listening to stories about the birds that visited there as they reached the goal. As a souvenir, the children were handed a wreath of wisteria vines from the mountains of Kyoto.
From the participants
"I saw acorn roots growing for the first time!"
"I want to come again here when the flowers of Rhododendron Chinensis bloom."
"I really enjoyed hiking while deepening my knowledge about the forest."
Through this event, KMFA will strive to encourage children to become familiar with the forest with the cooperation and participation of various organizations in Kyoto.
---
This event was;
Conducted by Kyoto Model Forest Association
Co-conducted by the Kyoto City Greenery Association
Sponsored by Chuo Warehouse Co., Ltd.
Supported by Kyoto City Board of Education