We have received many applications for the "Kyoto's Forests Woodworking Kit Present" initiative to support children and their families doing their best to stay home during the school break due to the measures to prevent the spread of COVID-19 infections. We would like to share some of the wonderful works we have seen.
Hinoki (Japanese cypress wood) Ballpoint Pen

We polished the wood smooth and then finished by coating it with oil. It's fun to watch the color develop the more I use the pen!
When polishing, I could enjoy the lovely scent of hinoki wood while making the pen.
Forest Clock Sets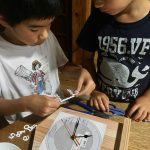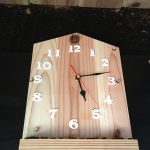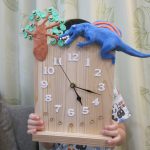 I enjoyed creating my own original minute and hour hands for the clock, as well as attaching the thinly sliced onigurumi (Japanese walnut). I hung the clock in a place where I had said earlier, "I'd like to have a clock that pairs well with the wooden ceiling"—it looks so nice there now it makes me smile.
 We could smell the pungent scent of wood when opening the bag—my five-year-old grandchild smiled too! The whole family then wasted no time starting to make crafts. I wanted to incorporate my grandchild's favorite dinosaur and used papier-mâché to do so. I watched my grandchild busily create the spinosaurus's face by looking at a picture of the dinosaur, and when it was done, everyone immediately exclaimed, "Wow! Great job!"
Hinoki Mugs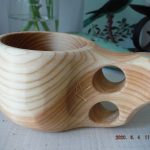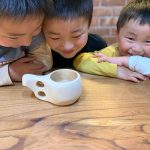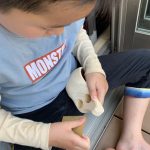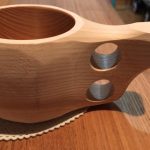 The kids were very curious about the scent of the hinoki wood and the mugs that change in appearance with a little sanding. They are having fun making them.
It was fun watching the mugs become more and more beautiful by sanding them. The kids will treasure their own special mugs when using them!
We sanded the wood, did a little carving, and polished with oil. It was interesting watching the wood be planed rapidly by using the rough sander, which was fun to use. After adjusting the wood to the desired shape, we applied a pattern using a chisel. It was quite difficult because the chisel would slip. We then polished the wood using a cloth and some camellia oil we had in the house. My child and I were delighted, and he said that the mug "looked like something you'd see in a store" as the color of the wood came out so beautifully. It became quite the tasteful mug.