February 5, 2016
The fourth "Kyoto Conference on Forests, Forestry, and Wood Industry" was held on February 5, 2016. Several stakeholders including companies and groups committed to forests, forestry and the conservation of forests attended the conference.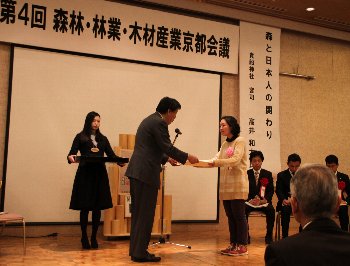 At the general meeting in the morning, the Governor's Prize, which recognizes the best Kyoto Model Forest approach, was awarded to Sanyo Chemical Industries, Ltd. This was followed by a lecture titled "Relationships between forests and Japanese people" by Mr. Takai, Chief Priest of the Kibune shrine.
During the main conference session held in the afternoon, several members and stakeholders of the KMFA participated in the lecture and the panel discussion themed "Promoting Utilization of Forest Resources." Furthermore, in another session titled "Forestry and Wood Industry Promotion Meeting," Shimadzu Corporation, a KMFA member, received an award for its contribution to forest management through the scheme of Forest Management Activities in collaboration withprivate companies promoted by Kyoto prefecture and the KMFA.