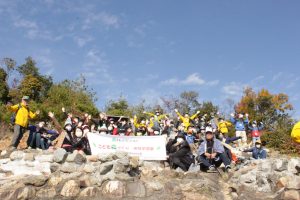 On Saturday, December 6, 2020, Kyoto Model Forest Association held the "Children's Forest Learning Session" sponsored by the International Soroptimist Kyoto, in which 27 people participated, including 13 elementary school students.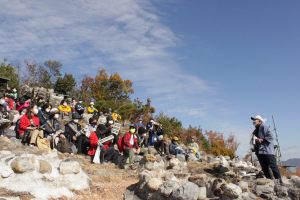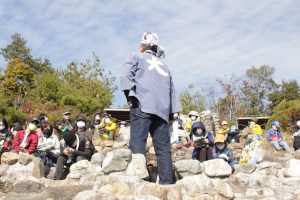 Near the Hidari-Daimonji, the fire bed of the bonfire festival in August, in Kita Ward, Kyoto City, Mr. Okamoto, chairman of the Okuribi Preservation Society, explained how the members of the community had been striving to protect and inherit Okuribi, the traditional festival.
He also mentioned how the regional natural resources had been utilized to support the tradition, although this custom has largely changed in recent times, as red pines that were used as firewood for generations had become
difficult to procure in the regional forests.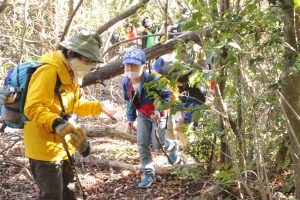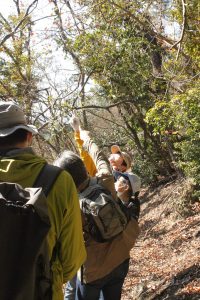 The participants then walked through the forest while listening to forest instructors talking about the tree species growing in the forests and the difference between properly maintained forests and those that were not, observing it firsthand.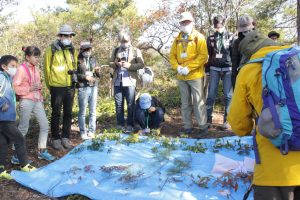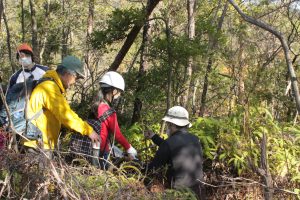 Finally, two representatives from the regional voluntary group involved in forest maintenance activities talked about how to keep red pine forests healthy and adequately maintained. The staff handed a lease of wisteria vine and a "participation certificate" made from wood grown in Kyoto to the children.
Words from the participants:
"I'm glad I was able to learn the stories I would not have known otherwise and listened to them in person from the people actively involved in the preservation processes."
"I didn't care what was happening in the forest I usually saw from a distance as long as it seemed green and trees were growing, but I'm glad that now I know the details."
The KMFA will continue organizing events to familiarize people, especially children, with the regional forests that have supported the culture of Kyoto.
KMFA carried out this project with the sponsor of "International Soroptimist Kyoto."