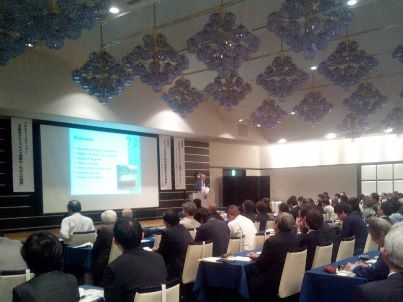 Kyoto prefecture and the Kyoto Model Forest Association jointly hosted the Model Forest International Symposium in Kyoto City on November 4th, 2014.
This symposium was organized for the purpose of actively appealing to people who benefit from forests, including residents in the urban area, the importance of the sustainable forest conservation and management. It also aimed at fostering momentum toward the "National Arboriculture Festival", scheduled to be held in Kyoto in 2016.
Two guest speakers from Canada, the birthplace of the Model Forests, Dr. Nancy Gélinas (Professor at Laval University, Quebec) and Mr. Peter Besseau (Executive Director of the International Model Forest Network Secretariat) delivered keynote speeches. A panel discussion entitled "Future Expansion of Kyoto Model Forest Activities" was also presented.
We hope that the participants would not only get to know the update of forest management activities in Kyoto, but also become aware of the importance of the sustainable forest management from the global viewpoint through the Model Forest concept and put that philosophy into action.
(Summary)
When: (Tuesday) 13:30 – 16:30
Where: Kyoto Garden Palace, Kamigyo-ku, Kyoto City
Program
1. Keynote Speeches (13:30 – 15:30)
I. Province of Quebec's initiatives to the Forest Conservation
Dr. Nancy Gélinas, Professor at Laval University, Quebec, Canada
II. Model Forests around the world and approaches taken by Kyoto
Mr. Peter Besseau, Executive Director of the IMFN Secretariat
2. Panel Discussion (15:30 – 16:30)
Subject> "Future Expansion of Kyoto Model Forest Activities"
Dr. Shingo Shibata, Professor at the Graduate School of Sophia University (Coordinator)
Dr. Fusho Ozawa, Consultant at the Kyoto Model Forest Association (Advisor)
Mr. Masato Nishimura, Murata Manufacturing Co.,Ltd. (Case Report)
Ms. Akari Kitagawa, Nishiyama Council for the Promotion of Forest Protection