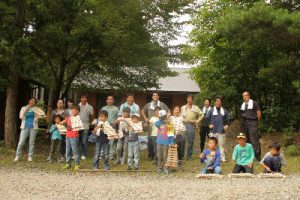 On August 5, 2017, KMFA held a summer program for children in Gappei-Kinen-no-Mori in Ukyo ward, Kyoto city. Kyoto Junior Chamber of forestry, timber, and construction industries helped the 18 participants including elementary school children and their parents in learning about forests.
During the first part, the participants watched a demonstration on cutting trees with a chainsaw for thinning purposes. Though the demonstration was provided by the instructors, the participants tried cutting the trees themselves. For a majority of the participants, this was the first experience cutting trees. They also learned about the importance of thinning, which is required for the healthy growth of trees .
For the second part, participants were paired to produce a xylophone from locally-produced Cypress wood, under the guidance of the lecturers. The children continuously adjusted the length of the keys while using a square and a saw so that the xylophone could produce the correct sound at the right pitch.
After the program, the participants provided encouraging comments: "It was an extraordinary experience which amazed them beyond their expectations"; "The smell of wood was relaxing"; and "It was my first time using a saw. It was difficult but fun".